Biography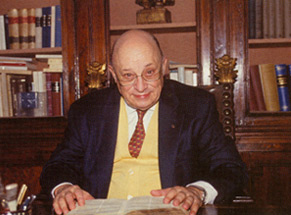 Born 8 March 1926.
Graduated at the University of Milan in 1948.
Actively exercises the lawyer profession from 1950.
Pupil of the Proff. Emilio Betti, Francesco Carnelutti and Enrico Allorio, has collaborated assiduously with written monographic and notes on the greater italian legal reviews from 1950.
He has matured a deepened acquaintance of right of obligations, having carried out studies in matter of money obligations; damage from mora; and inflationary phenomena.
With care to the damage from mora, to the inflation and the interests, it is give along decided time opposing of the dogmatic category of the credits of value and the cumulus of monetary revaluation and interests.
Author of the volumes: "The monetary expression and the compensation of the damage" (Padova 1994), with a preface of Prof. Alberto Trabucchi and "Problems of reform of the civil process" (Padova 1994), with a preface of Prof. Enrico Allorio. · Member of the Ministerial Commission for the reform of civil code, presided from Prof. Giuseppe Tarzia.
Already Senator of the Republic during the 10th Legislatura; has covered, in the past, important public charges, such as President of Varese's Hospital; member of the Camerale Committee of the C.C.I.A.A. of Varese; President of the Italian Society for the railway line between Genoa and Gottardo.
He has matured an important experience in banking field: he was Vice-president of the Edmond De Rotschild's Bank; member of the Confederation Internationale du Credit Populaire; administrator of Milan 's Popular Bank and, last but not least, President of the Popular Bank of Luino and Varese.